Violet – An aspiring artist who always ends up listening to other people's problems and giving advice
Tyler – One of Violet's ex-boyfriends.  He worked at the coffee shop, but has since left to study Music in New York.
Michelle – That one ditzy girl in everyone's group of friends
Bill – One of Violet's roommates.  He's studying to be a pilot.  He's in a relationship with Dee
Dee – Violet's other roommate.  She wants to be a teacher.  She's in a relationship with Bill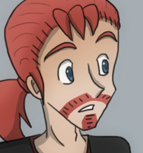 Connor – Violet's estranged friend.  He doesn't tell anyone about his job, only that it's "classified".
Winnie – One of Violet's classmates.  His real name is Winchester.
Ashley – Violet's childhood friend.  Currently dating Michelle.
Rodney Dangerbunny – Violet's pet rabbit.